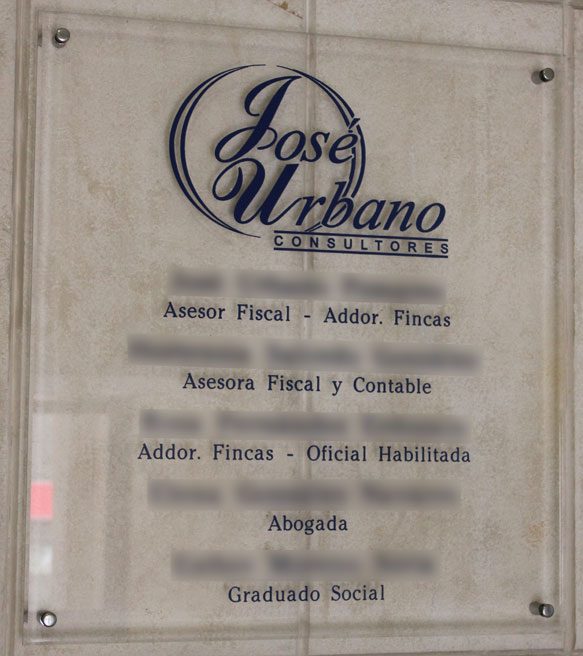 The Administration of the community has unlawfully delayed the distribution of the Minutes ("Acta") of the latest community meeting, which has made it practical impossible for property owners to legally challenge it.
This should also be seen in the light that the same Administration earlier seems to have registered fake power of attorneys at several occasions for the President of the community.
Unspeakable delay
According to the law the President and the Secretary of the community must sign the Minutes ("Acta ordinaria/extraordinaria") within 10 days.
El acta deberá cerrarse con las firmas del presidente y del secretario al terminar la reunión o dentro de los diez días naturales siguientes. Desde su cierre los acuerdos serán ejecutivos, salvo que la Ley previere lo contrario.

(Artículo 19.3, Ley 49/1960)
The last community meeting was held on 13 April 2019 and the Minutes ("Acta") of the meeting should have been signed latest on 23 April 2019 and thereafter been sent to all property owners. The Administration did not send the Minutes ("Acta") of the meeting until 12 September 2019, which is almost four months after the meeting! (Read!)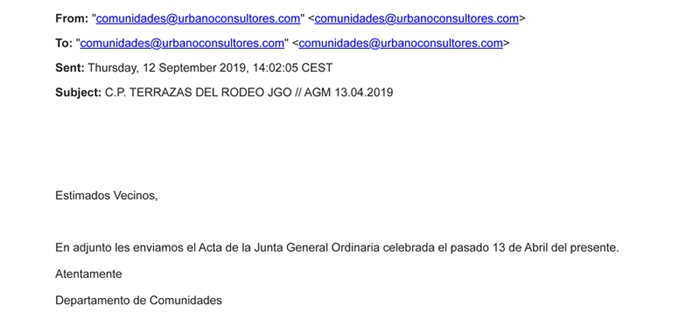 Property owners who attended the community meeting - in person or by giving power of attorney to someone else - and voted against a decision, can challenge it legally, but it has to be done within three months from the date of the meeting. If the matter of the legal challenge do not correspond with the legislation or the statues of the community, then it has to be done within one year.
Estarán legitimados para la impugnación de estos acuerdos los propietarios que hubiesen salvado su voto en la Junta, los ausentes por cualquier causa y los que indebidamente hubiesen sido privados de su derecho de voto. Para impugnar los acuerdos de la Junta el propietario deberá estar al corriente en el pago de la totalidad de las deudas vencidas con la comunidad o proceder previamente a la consignación judicial de las mismas. Esta regla no será de aplicación para la impugnación de los acuerdos de la Junta relativos al establecimiento o alteración de las cuotas de participación a que se refiere el artículo 9 entre los propietarios.

(Artículo 18.2, Ley 49/1960)
La acción caducará a los tres meses de adoptarse el acuerdo por la Junta de propietarios, salvo que se trate de actos contrarios a la ley o a los estatutos, en cuyo caso la acción caducará al año. Para los propietarios ausentes dicho plazo se computará a partir de la comunicación del acuerdo conforme al procedimiento establecido en el artículo 9.

(Artículo 18.3, Ley 49/1960)
It is practical impossible to challenge any decisions without having the Minutes ("Acta") from the meeting before its dead-line!
By delaying to send the Minutes ("Acta") to the property owners to well after the dead-line to legally challenge decisions being made at the community meeting, then the Administration has offset the property owners legal rights.
The "dirty trick" by the Administration made it impossible for a property owner who's representative, spoke up and voted against the decision to invest in a new card locks system, to legally challenge that decision.
The card lock system
Installation of a card lock access control system had been put forward as point 5 on the agenda for the community meeting ("Orden del día") by the President of the communityVCS.
ORDEN DEL DÍA

5,- Instalación de sistema de control de acceso a zonas comunitarias (hall y garages) y a las picinas. Presentacíon presupuestos. Decisiones a tomar.

(Convocatoria de la Junta General Ordinaria el 13 de Abril de 2019)
No offer was presented in the call to the meeting!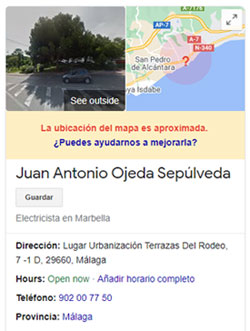 A flashy presentation of the card lock system was given by Juan Antonio Ojeda without neither presenting any offer or showing what the card lock system looks like. His presentation took an hour where he mainly tried to impress people with 3-D drawing of a car and other irrelevant information. Emphasis was put on that property owners could have a sticker in their cars that would make the garage doors to open automatically, but that is not particular different from the present system where the garage doors can be opened with a remote control. It was just by the end of his hour long presentation that Juan Antonio Ojeda disclosed the cost verbally, without presenting any alternative offer in writing!
The offer of card lock system given by Juan Antonio Ojeda was 30,818 EUR plus VAT. (Read!)
When it was questioned that no other offers had been taken in, then a woman that is believed to be the Vice-President of the community said that the offer was made by a neighbour who gave the community a "friendship price".
The same issue had also been brought up at the community meeting less then two years earlier and then the budget for the card lock system was only 10,075 EUR plus VAT! (Read!)
It was never mentioned during the community meeting on 13 April 2019 that the same issue had been brought up on the community meeting on 27 August 2017. Furthermore, the cost of the card lock system has never been included in the budget.
It is striking that neither the Administrator or the members of the Governing Board ("Junta Directiva") do not seem to understand the function of the budget. The budget is how much the property owners have approved to be spent on different things and it should be established at the very beginning of the budget year, which a qualified Administrator must know.
It is completely pointless to put forward offers that are not included in the budget!
It is difficult to understand why the issue of the card lock system was put forward twice 18 months in between, without being including in the budget at all. The steep increase in its cost from 10,075 EUR plus VAT to 30,818 EUR plus VAT does not make sense.
Power of Attorneys been faked for the President
One property owner has never given the President, any Power of Attorney, but still it shows in the Minutes of the community meeting that the President has got Power of Attorney from this property owner at several occasions. Faking Power of Attorneys is forgery, which is a crime.
The President's accumulation of Power of Attorneys coincide with when the annual community meeting begun to be held in August, instead of the beginning of the year as is praxis for approving the previous years accountancy and the new years budget. It becomes very strange to approve the budget after more then half of the budget year has passed.
The number of Power of Attorneys granted to the President (VCS) for community meetings are shown in the following table:
| | | | | | | | |
| --- | --- | --- | --- | --- | --- | --- | --- |
| | Ordinaria | Ordinaria | Ordinaria | Ordinaria | Ordinaria | Ordinaria | Ordinaria |
| | 16/03/13 | 09/08/14 | 22/08/15 | 13/08/16 | 26/08/17 | 24/03/18 | 13/04/19 |
| Sum. VCS | 5 | 24 | 27 | 33 | 17 | 16 | 22 |

A power of attorney (POA) or letter of attorney is a written authorization to represent or act on another's behalf in private affairs, business, or some other legal matter. The person authorizing the other to act is the principal, grantor, or donor (of the power). The one authorized to act is the agent, attorney, or in some common law jurisdictions, the attorney-in-fact.A power of attorney is a legal document where one decide to let someone else to act on one's behalf.

- - -

Some jurisdictions require that powers of attorney be notarized or witnessed, but others will enforce a power of attorney as long as it is signed by the grantor.
Legal responsibility
The Secretary-Administrator has got a legal responsibility and both criminal and civil lawsuits can be filed against him.
Los Administradores de fincas estarán sujetos a responsabilidad penal por los delitos y faltas en que incurran en su ejercicio profesional, y a la civil cuando causen daños en los bienes o intereses cuya administración tengan encomendada, viniendo obligados en este caso a indemnizar los perjuicios ocasionados.

(Artículo 57, BOJA nº 66 de 04/04/2008)
Further information to be obtained by registered users. Please, login and try again or register if you don't have a user account.
Sources:
Acta Junta General Ordinaria del 26 de agosto de 2017
Convicatoria de la Junta General Ordinaria del 13 abril de 2019
Acta Junta General Ordinaria del 13 abril de 2019
Legislation:
Facts:
Related Articles:
Related Forum Topic:
Downloads:
Boletín Oficial del Estado (BOE)
Ley 49/1960, 21 July, sobre propiedad horizontal.
The Administrator has to:

To watch over the good keeping of the community, its facilities and services, and to make relevant warnings to the property owners.
Prepare in due time and submit to the Board of property owners the plan of foreseeable expenses, proposing the necessary means to meet them.
Attend to the maintenance of the community, arranging the repairs and measures that are urgent, immediately reporting them to the President or, where appropriate, to the property owners.
To execute the agreements adopted in the matter of works and to make the payments and to carry out the collection of community fees.
Act, as the case may be, as secretary of the Board of property owners and keep the documentation of the community to be available for the property owners.
All other assigned powers by the Board of property owners.

(Artículo 20, Ley 49/1960)
The owner and the occupant of the apartment or premises are not allowed to develop in it or in the rest of the property activities prohibited in the statutes, that are harmful to the property or that contravene the general provisions on annoying, unhealthy, harmful, dangerous or illicit. (Artículo 7.2, apartado 2, Ley 49/1960)
The president of the community, on his own initiative or that of any of the owners or occupants, will require those who carry out the activities prohibited by this section to immediately cease them, under warning of initiating the appropriate legal actions. (Artículo 7.2, apartado 2, Ley 49/1960)
Sunday, 29 August 2021 14:14

248.71 KB
247