The provinces of Málaga and Granada, which include Costa del Sol and Costa Tropical, will move into Phase Two on Monday 1 June. People will regain more of their freedom. The timetables for walking and exercising will be revoked, beaches will be open for bathing, swimming pools can be used with 30% of their capacity, etc.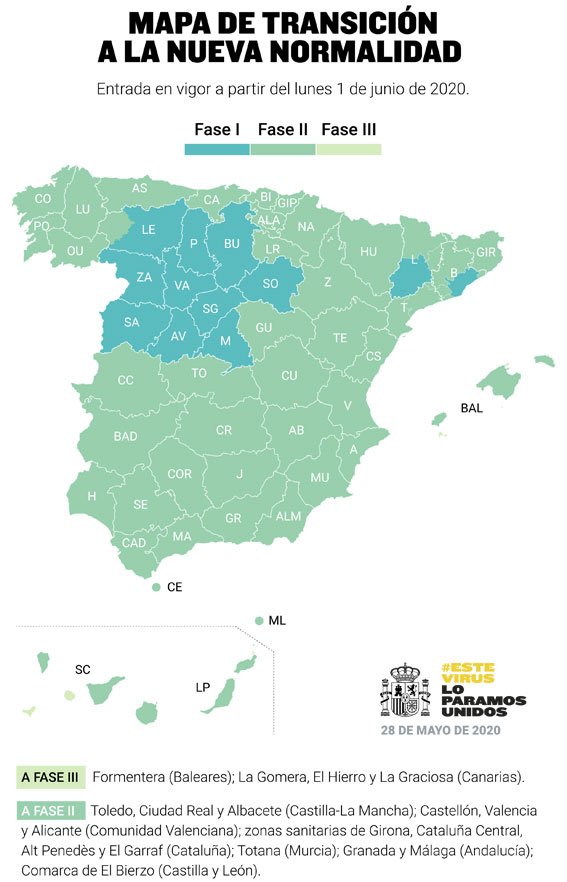 Activities allowed in Phase 2
Mobility
People can still only move around within their province. All members of a family who live together can travel in a vehicle.
Social gatherings
Up to 15 people can get together in a private home or on an outdoor area or in another public space, but people should not visit elderly people or others who belong to a high-risk group.
When people get together they will have to keep a social distance of two metres between each other, wear face masks and comply with hygiene rules, like washing hands frequently.
People in vulnerable groups, such as seniors or those with health conditions, are not excluded, provided they take adequate protection measures.
Bars, restaurants and cafeterias
They will now be allowed to open their indoor space of 50% of its capacity and they can continue to serve half as many tables as before in their usual terrace area. Tables must be disinfected between customers. No service are allowed at the bar desk.
Tourist accommodation
Hotels and other self-catering tourist accommodation can reopen common areas, but with capacity restriction.
Shops and Businesses
Shops and businesses can open with 40% of their capacity. Shops will have to be disinfected twice a day and a two-metre distance should be kept between customers.
Shopping centres can reopen, but with 30% capacity restrictions of their communal areas.
Cultural events
Cinemas and theatres with reduced seating.
Open air events can be held with up to 200 people, providing sufficient spaces can be left between seats. Cultural events indoors are limited to 30 people, and no more than 30 per cent of the premises' normal capacity.
Libraries continues to be open, but just for the lending and return of books.
Museums continues to be open, selling tickets in advance and keeping visitors down to a third of normal capacity.
Markets
Open-air markets are allowed with 25% of usual stands and a third of normal capacity.
Fishing and hunting
Hunting and sports fishing can continue.
Churches and other places of worship
Churches and other places of worship can now keep open at 50% of their capacity. Objects must not be shared, and if praying takes place on the floor, each person must bring their own mat.
Sport activities
Beaches open for bathing. Swimming pools can open at 30% of their capacity. Matches and competitions can be held behind closed doors. Individual training sessions are permitted. Sports centres can open with prior appointment, with limited capacity to ensure social distancing. The use of locker rooms and showers are not allowed.
Social-health centers
Remote assistance is given priority, but these centres can reopen if they need to offer attention in person.
Walks and other exercise
The timetables are revoked, apart from the times set aside for those over 70 years old (between 10am and 12 noon and from 7pm to 8pm). These times do not apply in municipalities with fewer than 10,000 inhabitants.
Source:
Legislation:
Related articles: